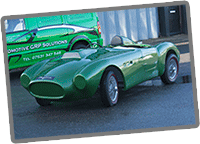 Projects
Follow our projects and find out what were are up to.
Select a project from the menu below and click "Go" to view the project updates.
---
Suzuki GSXR 750
This bike started in parts, we then stripped the paint, and then repaired any cracks found. Once repaired we sprayed all plastic panels in a high build primer. What this allows is a level and consistent layer ready to wet flat back.Also We can match any paint so no problems with faded paint or missing paint codes , and we also can change the colour sceme if required. Once sprayed in the low bake oven , all decals are applied . We can get hold of any decals for any make and model , and even match from pictures . We are very pleased how the bike came out, and the customer has taken the suzuki to alot of show and won best at show twice, so we are very happy with are results.
Showing 1 to 1 of 1 pictures | Click on the pictures to see a bigger view
Jump to page: 1

---
Jump to page: 1